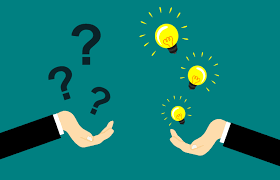 At this very important, crucial and confusing time for us humans in the modern post-industrial world, now a digital/information global economy which is in BIG trouble, our duty as spouses, parents, and friends is to make sure that our financial health is protected.
None of us know where COVID – 19 will leave us. Just know this. This is the time to do everything we can to survive financially, to keep our lives and well being intact, to recognize that this once in a lifetime calamity/threat represents a time in which we can, should, must, keep positively thinking that we will survive/get through.
And so, whatever happens, I want to encourage all of you to believe that our lives will go on and we will prosper once again.
What it will look like after, will be a transformation to a new better, kinder world where individuals come together as a global people for the good of man/womankind.
The magnitude of this adversity has a flip side, which is an opportunity not only to survive and recover but to help others.
Tracy and I are 'all-in' to help anyone we can, to restructure debt, to give you strategies to eliminate bad debt, and to assist you in finding your best financial footing you can, going forward.
Please understand. It is crucial to act now, as lending parameters continue to tighten, perhaps to the point where too many people no longer qualify, whether it be to refinance, or move and be stuck.
Do not end up on the 'slippery slope' or finding your financial health going down the proverbial rabbit hole.
Many of you are in peril whether you realize it or not. We all are really, aren't we?
Do not look to your bank for helpful advice anymore. With all the reasons in the world not to trust anything or anyone, please recognize that our insatiable big banks are out for themselves period.
Those days are gone, believe me, or should be gone because the banks do not care to earn our trust and loyalty, nor do they deserve it.
They do not care about me or you. Their business 'culture' is now the opposite of helpful and caring.
Rather it is to maximize profit, at all costs, however, they can without integrity, ethics…both long gone.
Capitalism has stopped working and is now structured and manipulated to make the one percent richer.
One bank who shall not be named, even has to audacity to the moniker 'YOU ARE RICHER THAN YOU THINK'. REALLY. What a crock right of b-s.
Understand that there is another, much better option, which is to find an expert, independent mortgage professional to guide and help.
Life has gotten very complex as has mortgage financing and my message to you is to do absolutely everything you can to create a solid financial plan, and cash flow/budget which includes emergency funding, etc., for once with a more open, positive mindset to try the alternative.
More and more each day, I read and hear it said 'The status quo will be over' and the new will take over.
Many people will get very desperate. Don't allow yourself to be one of them if you can help it. Because financial stress leads to nothing positive, only despair and break up.
We are here for you. Check us out. Look at our reputation and years in the business.
So talk to your spouse, partner, others to make the call.
We won't disappoint you.
God Bless.
Ron Price – Founder, HomeBuyDFY.ca
Tracy (Luciani) Price – Co-Owner, Price Team Mortgages/DLC