The Financial Post reported that TD Bank stock has been downgraded after CBC News reported allegations of aggressive sales tactics and admissions of law-breaking by bank employees last week.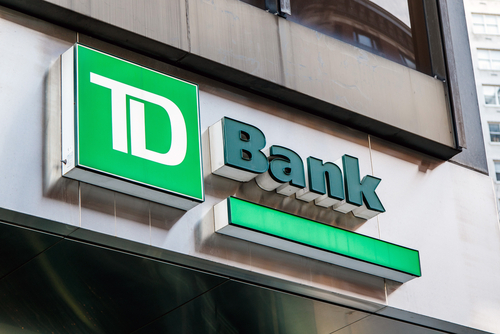 Admissions of high pressure sales tactics and unethical practices including "breaking the law with practices such as increasing lines of credit, overdraft protection and credit card limits without customers' knowledge."
If anyone thinks this issue is with one bank only, then they are either kidding themselves or have something to hide. We believe there is little doubt that all our big banks have similar practices. Will they be sued? This remains to be seen suffice to say that this could become "A Wells Fargo moment".
Wells Fargo was fined US $185 Million on Sept 8, 2016 by U.S. regulators when 'abusive' sales practices by the bank were uncovered. That bank was fined for opening hundreds of thousands of retail bank accounts without client approval according to the Associated Press.
One Canadian analyst suggested that the reported revelations could inflict damage that may have a "material impact on the (TD) bank's reputation" and earnings and valuation.
Is this just the tip of the proverbial iceberg? Only time will tell but this isn't going away anytime soon and will likely be news for some time. Are other banks involved in the same type of practices? Is there more to the story, meaning other practices not yet uncovered? When will it be deemed more than just unethical? When is it deemed that they've crossed the line and broken the law? Canadians deserve to have such questions answered.
On the mortgage front, we have being informing our readership about the perils of bank Collateral Mortgages now for over five years. For example this type of mortgage product gives the banks the ability to secure previously unsecured debt instruments, thus giving them the power to ultimately force the sale of a property without any missed mortgage payments whatsoever, charge higher interest 'at will' etc. While the mortgage product itself is legal, they don't disclose to consumers the general nature of the new product. Isn't the act of omission, by not mentioning to the customer that they are signing a Collateral Mortgage, in and of itself illegal?
As your trusted mortgage advisors, we suggest that the lack of disclosure practised by our big banks, which has become commonplace, should perhaps be investigated and challenged to establish whether it is in fact breaking the law. If so, then the potential damages could become astronomical.
The value the mortgage brokerage industry brings consumers has never been more clear. We also keep the banks competitive. Without us, Canadians would be paying much more.
Please understand that obtaining a mortgage is much more than about 'Rate'. It's about the 'Terms' of the mortgage and the 'Trust' you have in the supplier. Call us to discuss.